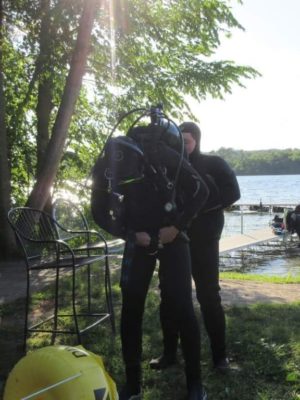 Bear Lake: Manawa, WI – June 2019
Max Depth: 24 ft. Bottom Temp: 49 degrees
Bear Lake
This was our first dive without a dive master. We met up with the group Diver's Realm. We thought we would be going as a group, we started out following two experienced divers but lost them quickly. This was also our first time using a dive flag and in a lake with boat traffic.
We had brand new tanks to try out and were nervous and excited! There was a small decline going in near the dock and as he was going in, husband buddy suddenly slipped down the decline and fell backwards on his brand new tank! Thankfully he was not hurt and just scraped the tank a little bit.
After that hiccup we had a great dive. The visibility was slightly yellowish and hard to see at some times, probably because we kicked up the bottom. We made it out and around for just over an hour! It was a lot of fun after the initial nerves passed.
The other divers found some awesome bottles, one labeled with the date 1957, some anchors, cans, and old fins. We did see a school of pan fish which was a highlight and I almost ran into a tree underwater.
This lake is one I would like to return to and explore more!